If you're a Millennial, technology comes pretty easy to maneuver. However, it can still take time to adjust to a new device, particularly when that equipment hasn't been designed to enhance the user experience. The Avalon Integration team recently discovered that the Zebra MC3300 Handheld Mobile Computer elevates user-friendly to a new standard that you'll appreciate, no matter how tech-savvy you are.
So, why do you need the Zebra MC3300 Handheld Mobile Computer?
The MC3300 is about as easy as it gets—and just as versatile. Zebra designed the rugged handheld computer so you can customize it to the way you're going to use it. Choose from four form factors, three scan engines, three keypads, and three tiers of functionality. With all of these choices, you can transform this mobile computer into a purpose-built device that nails every task you need, with accuracy and ease.
Look at the data input options. The MC3300 has both a touchscreen and keyboard, with your choice of alphanumeric, numeric, and functional numeric keypads. The 4-inch screen is plenty large enough to type easily, so your workers aren't wasting time with a temperamental touchscreen that commands precision.
Zebra powers the MC3300 with its fortified Android for enterprise-class function. Right out of the box, the computer runs the latest version of Android, so users have the familiarity that comes with this operating system—i.e., no training required. You can also upgrade easily to future Android versions. And if the pain of OS migration that resulted from Microsoft's abandonment is still fresh on your mind, you should know that Zebra guarantees security updates for 10 years from the release date.
So, why do you need the Zebra MC3300 Handheld Mobile Computer?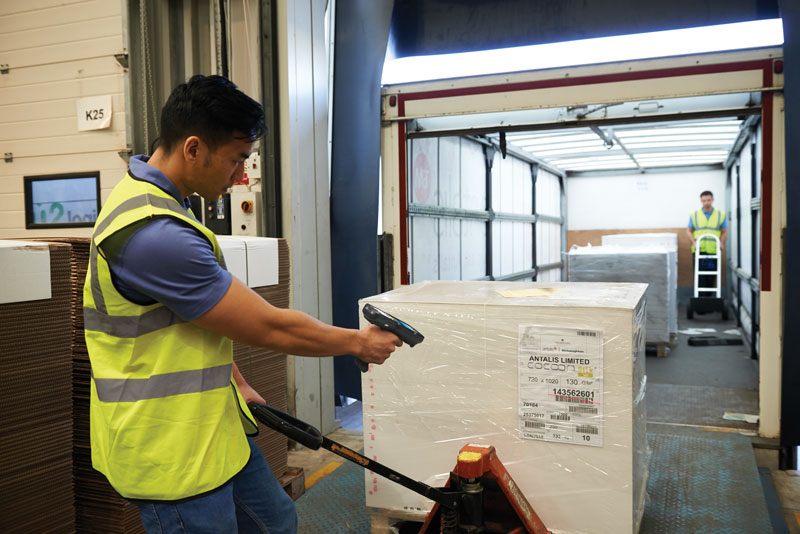 Speaking of power, the MC3300 Handheld Mobile Computer is engineered for performance. Run two apps side by side or flip back and forth. Just press a button to get where you need, and the lightning-fast processor will take you there in an instant. Zebra installed a Qualcomm 8056 1.8GHz Hexa-core processor with power optimization. That means you're running with up to 16 times the RAM and 32 to 125 times the Flash memory.
For those TE apps you're already using, the MC3300 will run them, right out of the box. There's no backend modification necessary. You also have the popular Ivanti Velocity TE pre-loaded and pre-licensed on the device. But if you need to update your TEs or convert green screen apps, Zebra's AllTouch TE is also pre-loaded, which helps you gain the more intuitive, graphics screens that today's users prefer.
Contact Avalon Today to Schedule a Demonstration for the Zebra MC3300 Handheld Mobile Computer!
The MC3300 Handheld Mobile Computer has been designed with backward compatibility to the earlier MC3200, so if you've already invested in accessories, you can continue to use them. But you might want to consider new accessories, like the universal ShareCradle so you can charge the batteries even faster. Options also include the PowerPrecision+ battery that delivers longer perform as well as valuable metrics for battery health and life. And the forklift mount for the MC3300 Handheld Mobile Computer is a new and potentially invaluable accessory.
You can't talk about user-friendly without also addressing connectivity. With support for the 802.11ac, the MC3300 Handheld Mobile Computer is fast to connect…and stay that way.
Check out the Unboxing and Review of the Zebra MC3300!
Watch this video to see more features of the Zebra MC3300 Handheld Mobile Computer. Then contact Avalon Integration today to schedule a demo.
Hurry! Time's Almost Up!
Rebate expires Dec 31 now is the time
Check out the Avalon Go Zebra page to learn more!
*Offer expires 12/31/18 for both trade-in and free shipping
https://avalonintegration.com/wp-content/uploads/2021/09/mc3300-handheld-mobile-computer-featured-image.jpg
486
800
Avalon
http://avalonintegration.com/wp-content/uploads/2022/05/Avalon-Logo_APeakTechnologiesCompany-01-1030x313.png
Avalon
2018-12-18 09:25:12
2021-09-18 20:11:04
The Zebra MC3300 Handheld Mobile Computer Elevates User-Friendly to a New Standard